ILJB is a non-denominational center for learning that aims to promote tolerance, moderation, and pluralism in furthering the study and practice of our tradition
We offer quality programs to strengthen and expand Brooklyn's Jewish community
"Your vision in putting these programs together is altogether admirable" Rabbi Gordon Tucker
Temple Israel of White Plains
Past Events
2017 | 2016 | 2015 | 2014 | 2013 | 2012 | 2011 | pre 2011 events
How Do We Talk About Israel
Saturday, December 10, 7:30 pm
Congregation Mount Sinai (250 Cadman Plaza, Brooklyn, NY)

This panel, co-sponsored by Hadassah's Brooklyn Region, will give an in-depth analysis of Israel's current situation featuring Dr. Udi Sommer, Israeli Institute Visiting Professor of Political Science at Columbia University, Michael Goldhaber, International Legal Expert and author of The Attention Economy and Renee Albert, Hadassah's Rep to the U.N.
How Do We Talk About Israel?: The Rabbi's Perspective
Sunday, November 13, 4:00 pm
Kane Street Synagogue (236 Kane Street, Brooklyn, NY)
A panel consisting of leading members of the rabbinate, in conversation about how our spiritual leaders navigate such divisive waters. Confirmed speakers include Rabbi Gordon Tucker (of Temple Israel Center, White Plains, NY), Rabbi Avi Killip (of Mechon Hadar, New York, NY), Rabbi Matt Carl (of East Midwood Jewish Center, Brooklyn, NY), Rabbi Maurice Appelbaum (of Ahavas Israel, Brooklyn, NY), and Rabbi Linda Henry-Goodman (of Union Temple, Brooklyn, NY).
How Do We Talk About Israel Talk @ Flatbush Jewish Center
Sunday, October 30, 4:00 pm
Noam Gilboord, Director of Israel and International Affairs for the Jewish Community Relations Council of New York will give a talk aimed at providing authoritative information as well as increasing our sensitivity to all sides of the issues, in hopes of fostering civil conversation both within our community and with others.
This speaker series includes lectures and panels devoted to promoting informed, civil discourse within and among communities on the policies and politics of Israel and US/Israel relations.

Abridging Civil Rights of Non-Orthodox in Israel
Rabbi Uri Regev, Hiddush, for religious pluralism
Rabbi Regev is President of Hiddush, and as such is the leading voice for religious pluralism in Israel. He will speak to us about the stranglehold preventing the vast non-Orthodox Jewish majority from exercising power over marriage, divorce, conversion and "Who Is A Jew?"
Sunday, May 22, 10:30 am at Union Temple, 17 Eastern Parkway, Brooklyn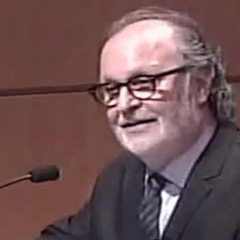 History of Violence in the Middle East: Can It Ever End?
Prof. Ross Brann Chair, Dept. of Middle Eastern Studies, Cornell University
Sunday, April 3rd at 2 PM. Park Slope Jewish Center 1320 8th Ave. (between 13 & 14th Streets)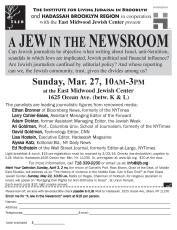 "A Jew in the Newsroom"
Presented by ILJB, Hadassah,Brooklyn Region and EMJC.
Sunday, Mar. 27, 2016 at East Midwood Jewish Center, 1625 Ocean Ave.
The Institute for Living Judaism in Brooklyn (ILJB) hosted "A Jew in the Newsroom" conference at East Midwood Jewish Center, offering an exchange of information and ideas from those who report on and comment about news involving Jewish themes.
The speakers were:
Ethan Bronner, Senior Editor, Bloomberg News
David Goldman, Technology Editor, CNN Digital
Alyssa Katz, member of the New York Daily News editorial board
Edward Rothstein, Critic at Large, The Wall Street Journal
Ari L. Goldman, Professor of Journalism, Columbia University
Lisa Hostein, Executive Editor, Hadassah magazine
Larry Cohler-Esses, Assistant Managing Editor, The Forward
Adam Dickter, former Assistant Managing Editor, The Jewish Week
2017 | 2016 | 2015 | 2014 | 2013 | 2012 | 2011 | pre 2011 events
2015:
Jewish Meditation-How We Get THERE
Sunday, Jan. 25 Temple Beth Emeth v'Ohr, hosted Rabbi Yoel Glick. Rabbi Yoel Glick is a teacher of Jewish meditation and spiritual wisdom who has been teaching and guiding seekers on the path for over twenty years. He has taught in the U.S., Canada, Israel, Asia and Europe to audiences of all denominations.
The Golden Age of Cantors in Brooklyn: An Evening of Music and Stories.
Mar. 19 , at 7:30, in conjunction with Brooklyn Jewish Historical Initiative and East Midwood's NightShul. An extraordinary evening as a group of celebrated cantors and musicians recall the golden age of synagogue music in Brooklyn. The participants, included cantors Jack Mendelsohn and Joseph Malovany, offering insider accounts, anecdotes, and musical examples of the rich history of cantorial music in our Borough.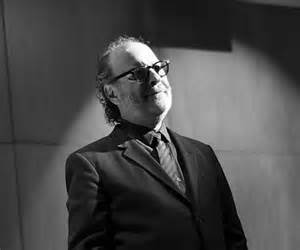 World War 1 and the Making and Eventual Breaking of the Modern Middle East
Sunday, Mar. 22, at 1:00 pm, Prof. Ross Brann, chairman, Cornell University's Dept. of Middle Eastern Studies at Park Slope Jewish Center, 1320 Eighth Ave Brooklyn, NY 11215
UNPACKING THE ISRAEL ELECTION RESULTS: WHERE DO WE GO FROM HERE?"
A discussion and townhall meeting with New York Times Best-Selling Author Gershom Gorenberg, and Leading Historian and Bar-Ilan University Professor Joshua Teitelbaum. Sunday, May 17, 11:30 AM at Congregation Mount Sinai, Cadman Plaza, Bklyn
For All Things There is a Season...
Caring for our loved ones as we care for ourselves - what you really need to consider when facing a loved one's final chapter in life.
An interdisciplinary panel discussion exploring the opportunities and challenges associated with the spiritual, medical, emotional, phycho-social and legal/financial aspects of this difficult period. Event was held on Sunday, Nov. 1, 2015; 9:30a-12:30p at 1625 Ocean Avenue, Brooklyn
Antidotes for Middle East Tension-Preventive Strategies


Ron Bruder, Founder and Chair, Education for Employment (EFE) and Mohammed Darawshe, Director of Planning, Equality and Shared Society, Givat Haviva. Event was held on Sunday, Nov. 8, 10:30am at Union Temple, 17 Eastern Parkway, Brooklyn.
"Israel in Crisis- the Diaspora Response"

ILJB, in conjunction with Congregation Mount Sinai presented the perspective of America's foremost Jewish observer/commentator- JJ Goldberg, author and Editor at large, The Forward
The event was held on Sunday, Nov. 22, 1:30pm at Congregation Mount Sinai, Congregation Mount Sinai 250 Cadman Plaza West | Brooklyn, NY 11201
2017 | 2016 | 2015 | 2014 | 2013 | 2012 | 2011 | pre 2011 events
2014:
A HISTORY OF BROOKLYN'S JEWS:
On Sunday, Feb.9, Brooklyn's Official Historian Ron Schweiger gave a most stimulating and entertaining talk to a full house at Temple Beth Emeth v'Ohr Shaare Tzedek Progressive Synagogue. Ron provided the opening salvo of our series, " A History of Brooklyn's Jews" with an overview of When, Where, and How Jews Came to Brooklyn, and When, Where, and How They Went".
"My Yiddishe Murder":
Saturday, March 8, 8PM at East Midwood Jewish Center, the infamous Williamsburg Homicide case of 1880. Presented by Dr. Eddy Portnoy, Professor of Jewish Studies at Rutgers University.
"The Kid From Brooklyn-The Musical Comedy of Danny Kaye":
Sunday, March 23, presented by Dr. Ira Epstein, noted humor archivist and racounteur, with special feature: JEWS TELLING OLD JOKES, a Karajoke for audience participation.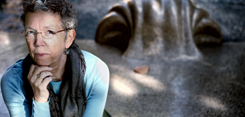 The Jewish Immigrant Experience in Brooklyn:
Sunday, March 30, '14, 4:30pm. The pre-eminent Professor of Jewish History, from U. of Michigan, Deborah Dash Moore will be presented to us on Sunday, Mar. 30, at 4:30, at the Brooklyn Historical Society, 128 Pierrepont St. (corner Clinton) in Brooklyn Heights.
The Lost Synagogues of Brooklyn:
Sunday, April 27, at 11AM Ellen Levitt shared with us the results of her exhaustive research which led to the publication of her book of the same name. Flatbush Jewish Center Shaare Torah, 327 E 5 St (Corner of Church Ave.)
Strangers in a Strange Land; How We Ended Up in Brooklyn:

Panel of leading Jewish History scholars featuring Drs. Ilana Abramovitch, Annie Polland, Gerald Sorin and Daniel Soyer was held at Kane Street Synagogue, 236 Kane St., (betw. Court St. and Tompkins Place) at 5:30 on Sunday, June 1.
This event was co-sponsored by the Brooklyn Jewish Historical Initiative, (BJHI) and Kane St. Synagogue.
2017 | 2016 | 2015 | 2014 | 2013 | 2012 | 2011 | pre 2011 events
2013:
NON-DENOMINATIONAL JUDAISM:
A large and spirited audience witnessed the panel discussion at East Midwood Jewish Center, between Rabbis Dan Ain, David Ingber, Jeff Fox, Professor Ora Prouser, Dean of the Academy of Jewish Religion and Avi Killip from Hebrew College and Yeshivat Hadar.
The focus was on transcendent themes of Judaism that sometimes get overshadowed by particulars, as well as the practical barriers to "Denominational Dissolution." These were raised and debated with verve and intelligence.
INTRODUCING RABBI JILL JACOBS:
head of newly-renamed T'ruah (formerly Rabbis for Human Rights, North America), who led a wonderfully intimate, stimulating discussion of the agenda of this august institution, whose concern spans a wide range, from maltreatment of immigrant farm workers to Women of the Wall. Her talk, at Park Slope JC, was very well received and spawned lively debate among the clergy, who were well represented, on the difficulties inherent in congregational leadership on "hotbutton issues."
THE PLIGHT OF ETHIOPIAN JEWS:
featured a film and discussion with the filmmaker of 400 MILES TO FREEDOM by Avishai Mekonen, discussing his childhood experiences fleeing Ethiopia in a desperate attempt to reach Israel, being kidnapped by child-traffickers, re-uniting with his family, and the challenges of integrating into Israel.
From Israel with Love: voices from Our Land
The Fall Seminar Series began with:
Sunday, November 17,
The Current State of Israel's Religious Pluralism Movement an evening with the Hiddush Movement's leader Rabbi Uri Regev. Regev tackled the current struggle to achieve power-sharing between Orthodox and non-Orthodox, as well as provide for the rights of other communities in Israel.
Sunday, December 22,
"Like Dreamers: The Story of the Israeli Paratroopers who Reunited Jerusalem and Divided a Nation" a brunch with author Yossi Klein-Halevi, eminent political advisor and author, of whom Michael Oren says, "Halevi has written the Israeli epic."
and continued with...
Sunday, January 19, 2014
The Unmaking of Israel, a talk and brunch with best-selling author, Gershom Gorenberg, whose latest offering "The Unmaking of Israel", was described by Jeffrey Goldberg in the NY Times Book Review as, "...indispensable, closely argued, and conditionally apocalyptic."
2017 | 2016 | 2015 | 2014 | 2013 | 2012 | 2011 | pre 2011 events
2012:
RABBI AMMIEL HIRSCH:
Toward a Progressive Zionism:Where Do We Turn Now?-a presentation and discussion by the chief spokesperson for the Reform Movement on the quandary many Jews feel about criticizing Israeli politics while remaining loyal to its nationhood and aspirations.
Rabbi Ammiel Hirsch of the Stephen Wise Free Synagogue advised the group to strengthen commitment to Judaism among young people through exposure to Jewish life at home. "Apathy, not criticism, is the problem" he said.
END OF LIFE ISSUES:
This event addressed an extremely sensitive and increasingly relevant topic. Titled,"Who Said It's OK?-Decisions at the End of Life", was produced with Jewish Board of Family and Children's Services, Hadassah Brooklyn Region, and the East Midwood Jewish Center. It featured a panel discussion between a Rabbi, a Doctor and a Social Worker followed by several breakout sessions on topics such as: Hospice and Homecare, Healthcare Proxies, Living Wills, Ethical Wills, and Organ Donation.
The panel participants were: Rabbi Stephanie Dickstein, LMSW; Dr. Barbara Paris, MD; Brenda Mamber, LCSW; assisted by Rabbi Ben Kohanim and Stepahnie Franco for the breakout sessions. It was moderated by ILJB's Director, Dr. Howard Honigman.
2017 | 2016 | 2015 | 2014 | 2013 | 2012 | 2011 | pre 2011 events
2011:
KORAN EVENTS:
The three-class series was very well received by overflow attendees. Rabbi Michael Paley gave a most lively and informative overview of Islam and its relationship to Judaism, both from his personal perspective and that of a scholar of over 30 years. Zakir Ahmad, a young Muslim student and preacher, impressed all with his insights into the two faiths and answered many questions about Muslim practice. Finally, Faradj Hisseine, a professor at Brooklyn College, tackled the Politics of Islam in a thoughtful, sensitive yet forthright manner.
A CONVERSATION WITH YOSSI KLEIN HALEVI;
Held to a Different Standard: Jews and the Rest of the World. Halevi delivered a thoughtful, informative presentation making the point, among others, of the irony that Israel was originally conceived by Zionists as a place where to the External world, it would exist like all other nations, but Internally, it would be special and commited to fulfilling the higher purposes of Judaism. As it turns out, Israel is all too Normal internally with its share of corruption, crime and excesses-although it is seen by the rest of the world as Special and judged accordingly.
For a full transcript of the event, you can order a DVD for $18 from info@iljb.org
PEOPLE OF THE BOOK IN THE DIGITAL AGE:
the Impact of the New Media on Jews and Israel, co-sponsored with Hadassah Brooklyn Region. The conference featured a panel of prominent journalists: Adam Dickter, Assistant Managing Editor of The Jewish Week; David Firestone, Editorial Board of The New York Times; Alana Newhouse, Editor-in-Chief of Tablet Magazine; Sam Norich Publisher of The Forward; and Barbara Spack, Past Vice President, Hadassah National. For a description of the event: summary POB. To purchase the DVD for $18, contact: info@iljb.org
MIDDLE EAST DEVELOPMENTS
with Dr. STEPHEN P. COHEN, Dir, Inst. for Middle East Peace & Development. Dr. Cohen discussed the revolutions in Arab countries, addressing their implications for Israel and America. Whether these uprisings will result in better government and a friendlier stance to the West and Israel rests largely on the kind of support and alliance-building that comes from American and Israeli factions. He maintained a generally hopeful attitude, fraught with the real risks involved in missteps by these administrations.
Dr. Cohen's remarks were recorded in full. To purchase the DVD for $18, contact: info@iljb.org
INCLUDAISM: WIDENING THE TENT OF OUR CONGREGATIONS
A basic tenet of our faith is the welcoming of all who consider embracing it, that we should open our community to those who are interested in joining with us in our approach to God. Discussing these concepts were Rabbi Dan Ain of 92Y Tribeca, and Paul Golin, Associate Executive Director of the Jewish Outreach Institute.
2017 | 2016 | 2015 | 2014 | 2013 | 2012 | 2011 | pre 2011 events
2010:
PEACE TO THOSE FAR AND NEAR:
Israel and American Jews at a Crossroads, A thought-provoking keynote address by Aaron David Miller, followed by a panel of experts: Ben Cohen, American Jewish Committee; Michael Salberg, Anti-Defamation League; Isaac Luria, JStreet; Rabbi Gordon Tucker, Temple Israel of White Plains. Click here for a description of the event summary_IAJ
THE STATE OF ISRAEL CONFERENCE:
Religious Pluralism in Israel, co-sponsored with Hadassah Brooklyn Region, featured Gershom Gorenberg, noted Israeli author, journalist and blogger (southjerusalem.com); author Dr. Susan Aranoff, Founding Director, Women of the Wall; Rabbi Uri Regev, CEO, Hiddush (hiddush.org) and Rabbi Avi Shafran, Dir. of Public Relations, Agudath Israel. For a complete description of the event, see full summary
JEWISH EDUCATION FAIR
featured a debate among Jewish educational leaders about the challenges of providing progressive, pluralistic Jewish education in Brooklyn. Speakers were: Rachel Abrahams, Program Officer of Avi Chai Fo.; Rabbi Dan Ain, from the New Shul; Rabbi Ellis Bloch, Associate Director, Board of Jewish Education, Yeshiva/Day Schools; and educational advisor Harry Trattner. Workshop on CAREGIVING FOR A DISABLED SPOUSE, an intelligent and caring discussion led by expert Dr. Richard Zuckerberg
2009:
GOODSTOCK II,
a festival of Tikkun Olam, featuring top acts of lovingkindness all-day event; organ donation and bone marrow transplants, disease prevention and early detection, Hazon, Hechsher Tsedek, Jewish World Watch, Jewish World Service, Mazon, Jewish Fo. for the Righteous, Simon Weisenthal Museum of Tolerance, Chevrah Kadisha, Bikur Cholim, and others.
The Settlements: a screening of Adam Hootnick's 2007 documentary "Unsettled", follwed by a reading of Stephen P. Cohen's analysis of the settlement situation, and a discussion between Doni Remba, Exec. Dir., Jewish Alliance for Change, and Stewart Ain, columnist for the Jewish Week.
Workshop on DEALING WITH OUR ADULT CHILDREN:
an evening session led by Social Workers Adina Segal and Allan Magill, and Dr. Howard Honigman on the impact of current economic pressures on our kids' independence, inter- and intra-marriage, in-laws, and Advanced Directives like health care proxies, power of attorney, etc.
2008:
THE BELIEVERS NEXT DOOR:
How Mainstream Jews Interface with the Muslim, Evangelical, and Haredi Communities co-sponsored with UJA; Rabbi David J. Forman, Rabbi Craig Miller, and Ethan Felson; moderated by Rabbi Dan Bronstein Non-Rhetorical Questions: What's So Great About Monotheism? • What's Wrong With Fundamentalism? • How Could We Love the Germans? • Why Me?(on unjust suffering) • Who Needs to be Chosen? 8-week course, Rabbi Alvin Kass, Rabbi Neil Gillman, Rabbi Heidi Hoover, Rabbi Simkha Weintraub, Rabbi Ellen Lippmann
GOODSTOCK,
a festival of Tikkun Olam, featuring top acts of lovingkindness all-day event; Jewish World Watch, Halachic Organ Donor Society, Jewish Foundation for the Righteous, Coalition on the Environment and Jewish Life (COEJL), American Jewish World Service, plus workshops on Bikur Cholim and Social Action Committees
2007:
Ethical Dilemmas for the Modern Jew 8-week course;
Immigration reform, vegetarianism and kashrut, women's right to choose, and environmental activism
CAN WE TALK ABOUT ISRAEL?
co-sponsored with HADASSAH, Brooklyn Region; Dr. Sandra Alfonsi, Diane Balser, Ethan Bronner, Ben Cohen, Ken Jacobson, Gary Rosenblatt, Prof. Mark Rosenblum, Rabbi Gordon Tucker, and Rabbi Melissa Weintraub, moderated by Leonard Lopate and Larry Josephson
The Labor of Love: Working toward a Good Relationship workshop;
Dr. Howard Honigman
2006:
Jewish Views of Sexual Diversity;
Rabbis Gordon Tucker, Dov Linzer, Leonard Levy, Sarra Lev, and Ayelet Cohen; moderated by Rabbi Joseph Potasnik
Rabbi Neil Gillman on "The Future of Liberal Judaism"
Praying When You Feel, Feeling When You Pray 8-week course; Rabbis Carter, Kelber, Weider, Slome and Goldstein
2005:
Rabbi David Ellenson on "Does Progressive Judaism Have a Future?"
Movie "Promises" at Congregation Beth Elohim in Park Slope for young singles
JJ Goldberg on "Insider Views of the Middle East"
Modern Day Prophets 8-week course;
Rabbis Neil Gillman, Benjamin Kreitman, Alvin Kass, and Niles Goldstein
There But For a Few Years..., on caregiving for aged loved ones workshop;
Dr. Sondra Brandler
2004:
Our Gala Opening Event featuring an address from Rabbi Michael Chernick